WELCOME TO INDEPENDENCE STUDIO
A Full-Service Shooting & Film Production Facility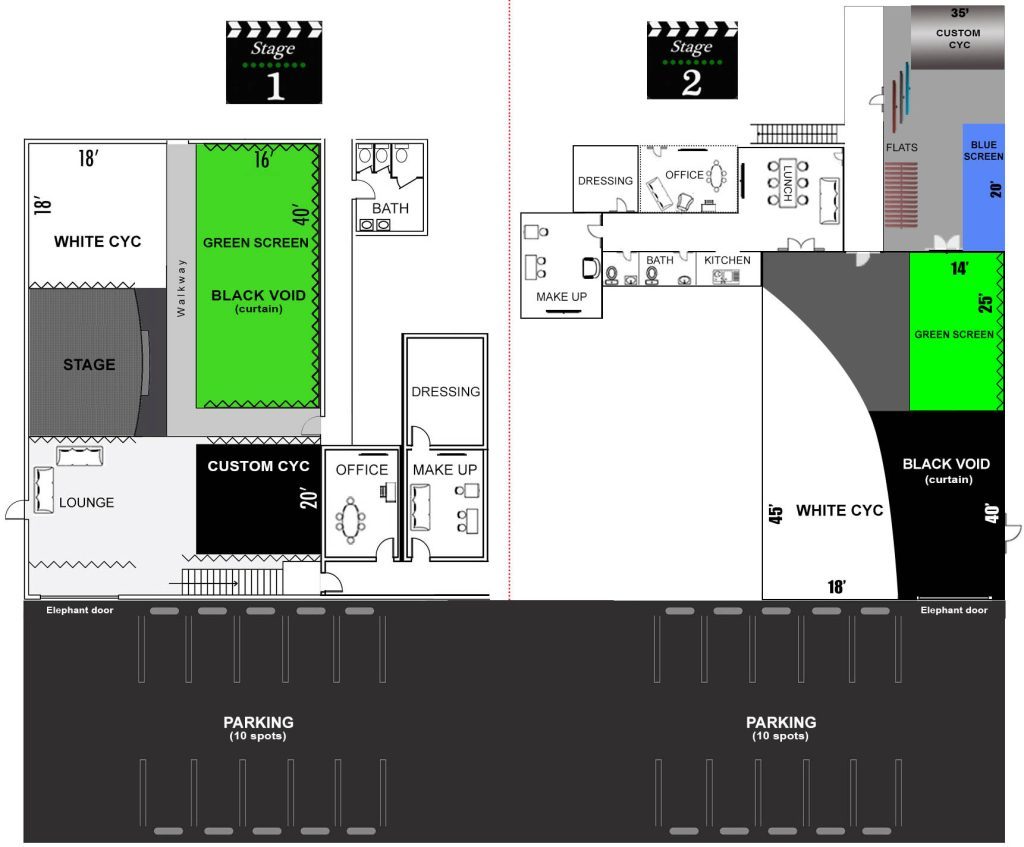 Independence Studio is a shooting and production facility, complete with 2 Stages and a vast array of lighting and production equipment.  We try to make it easy and affordable for our clients and crews to turn their imaginations into reality.  We provide filmmakers with everything they need in a clean, convenient, creative and professional shooting environment.
Stage 1: Green Screen – White Cyc – Black Void – Performance Stage – Office – Make up – Dressing Room
Stage 2: Green Screen – White Cyc – Black Void –  Blue Screen – LED Curtain – Cyc Wall – Kitchen – Lunch Area – Office – Make up – Dressing Room
Comfortable and spacious, shoot on our Pre-lit White Cyc, when you are done turn around,  flip a switch, and shoot on our Pre-lit Green Screen.
Each stage has 10 Parking Spaces and has plenty of room for trucks and vans to unload. We also have free street parking in front of the building.
Our clients and filmmakers will have access to our facilities and amenities the studio is your playground to be creative.
Each Stage has a make up room, dressing room and office with printer.
We have over 2000 square feet of sound absorption sheets for better sound quality.
Lights and equipment are includes with each stage but if that is not enough you are welcome to bring your own lights and equipment as well. Each stage has have access to 220 Amps of house power with (3) 60 amp stage pin/bates.
Stage 1 has a performance stage with DMX lights controlled by Chauvet Showxpress software. It's great for creating a lighting ambiance for music videos.
If you happen to want another color backdrop we do not have, we have a custom cyc wall you can paint any color you want as a backdrop.
Independence Studio is located in the safe and convenient area of Woodland Hills in the Warner Center District, just a couple of blocks away from the Home Depot and Westfield Topanga Village.
Please contact us to schedule a tour to come by and check it out for yourself. View the rest of the studio photo gallery here.
Thanks for your support!
Zoom in to reveal more places
Find food, hotels, stores and more near the studio.